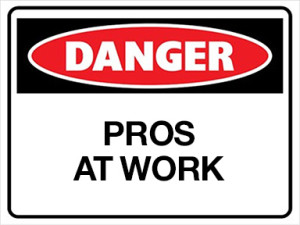 What's the difference between a "Pro" and an "Amateur"?  In one word: Dedication
In more words – dedication to something bigger than themselves and to the virtues that make their pursuits inspire others to greater heights of success and happiness.
The second you think about the money, you stop being a pro.

– James Altucher
Greed and Money undermine purity of purpose. Respect, humility, passion, open mindedness and a plan are the building blocks of success.
And Tang Soo Do, that is a building block too!
Without further adieu, a brief list of 12 tips to being a "Pro"
Ownership of the unnecessary – Objects, memories and dreams must have use. If they aren't helping us grow, discard them.
Polite over politics – Earning the animosity of another person to satisfy your ego is always a loosing proposition.
No friends are better than fake ones – Friendship should be beneficially symbiotic; each of you should build upon the other.
Feeling good is as important as looking good – The first must perpetuate the other. Inner beauty always comes through.
Play by your own rules – Don't let someone else set your ceiling for success. If you aren't happy with your prospects, be brave enough to travel a different path.
Enjoy the ride – Don't just reflect on the good times. Some of the most difficult times in life will provide you with your best lessons.
Build something daily – Be creative, make something! Do things that will improve life tomorrow, for yourself and others, because of what you did today.
Pursue the right kind of "new" – New Friends and new experiences always provide the highest ROI.
Manage expectations and engagement – Setting goals for interactions and outcomes isn't just for the work place. If you make your desires known in every situation you enter, your chance of obtaining the results you want increase substantially!
Win-win needs to be equal – It's not win-win if one person is less happy than the other. Win-win takes sincerity, cooperation and work. The product is always worth it. Everyone wins!
Honesty is efficient – It's not always easy, but it requires less effort in the long run. Lies need to be tracked and nurtured to maintain belief. If discovered, the cost is trust and honor. Better to be known as someone who tells difficult truths, than someone who can't be trusted.
Invest effort in fact, not fiction – Don't fall victim to Propaganda; personal or otherwise.  The lies we tell ourselves are always the most convincing. Perform due diligence, for internal and external questions. Seek answers of your own accord, then confirm them with a reliable source. Propaganda is fiction.
**Full disclosure: this post was inspired by James Altucher (his version can be found here).